Published: 2021-07-23
The new Asia-Pacific Journalism Review (APJR) has released its inaugural issue amidst a climate of uncertainty over whether the news industry can meet the pressing need for quality journalism. Published by the Hong Kong Baptist University School of Communication's Institute for Journalism and Society, the journal aims to serve as a platform for the profession to discuss how it can meet its unprecedented challenges.
"The reason for launching Asia-Pacific Journalism Review is that we strongly believe that the survival of journalism hinges on the concerted efforts of all journalists," said Dean Huang Yu, who oversees the journal.
This bilingual journal, with articles in Chinese and English, will appear every four months online with open access.
"The journal will track the latest journalism trends around the world, particularly in the Asia-Pacific region," said APJR editor Raymond Li of the Department of Journalism. It will also discuss theories of journalism studies and explore new modes of operation for the news industry.
In the inaugural issue, renowned journalism scholar Michael Schudson of Columbia University notes that the future of journalism is filled with both threats and opportunities. "Danger to journalists abounds. Reporters have been assaulted, kidnapped, and murdered. [M]any more journalists have suffered from harassment, trolling, [and] threats from strangers… for the act of trying to do their job. All of this is deeply troubling. Still in other respects, journalism's future looks promising and opportunities for new departures in journalism practice, quite extraordinary," writes Schudson, whose books include Why Journalism Still Matters (Wiley, 2018)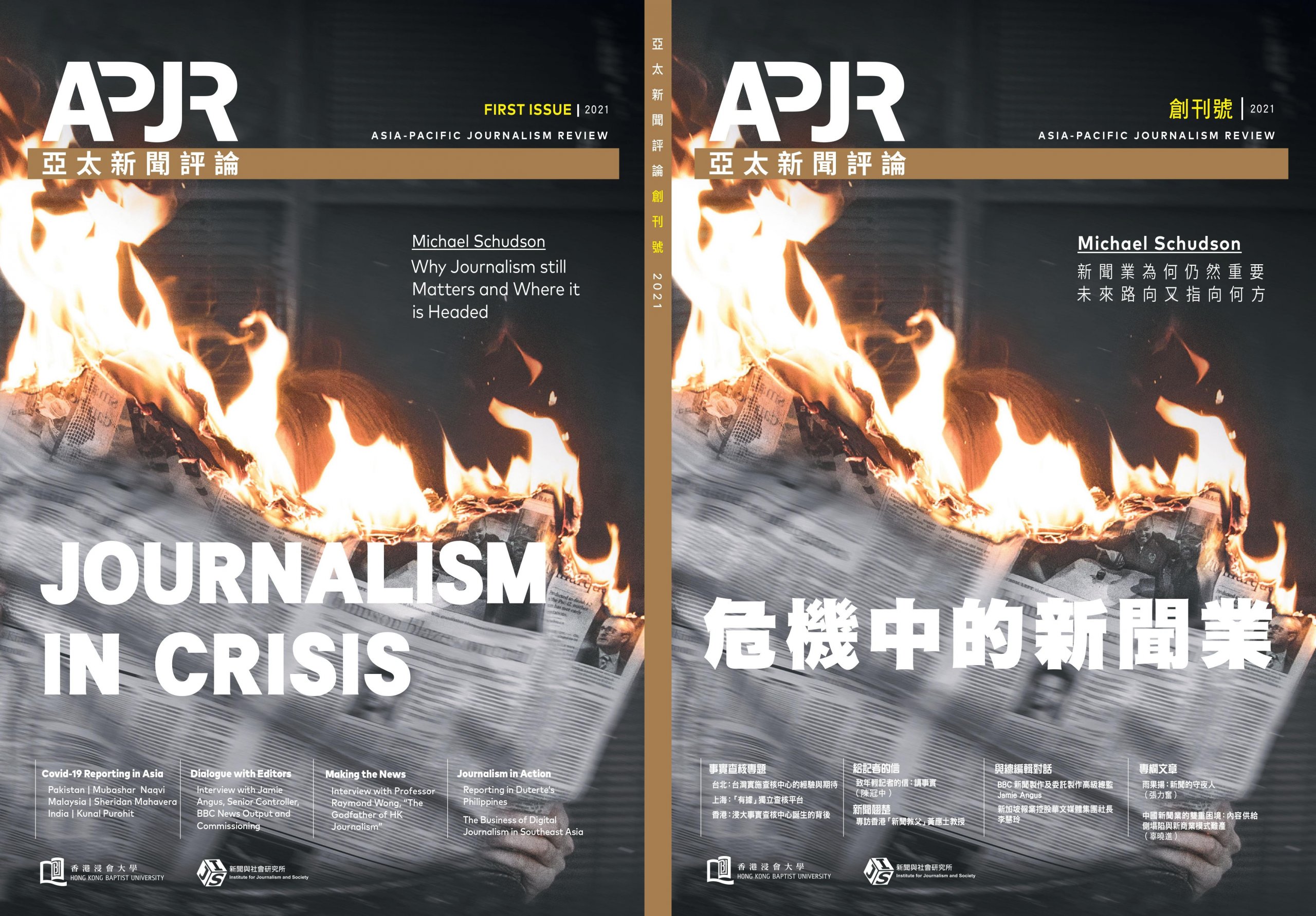 The first issue also includes a feature on "Fact Checking in Greater China", covering mainland China, Taiwan and Hong Kong. Regular features include "Letters to Young Journalists" penned by noted personalities from other fields. The first instalment is by Chinese novelist John Chen who shares his observations about the challenges media professionals face and emphasises on why it is vital to tell the truth irrespective of circumstances.
The journal also carries interviews with industry leaders and practitioners. In the first issue, Raymond R. Wong, Former Assistant General Manager at TVB Television Broadcasts Limited, stresses the importance of professional ethics in journalism training. The issue also features an interview with BBC News senior controller Jamie Angus. "More and more we are having to cover stories where it is effectively impossible to report freely on the ground," Angus says of the BBC's international reportage. "[W]e spend a lot of time trying to keep our own staff safe and secure—both from risks involved in news gathering and reporting, and from attacks on them by those who would like our voices to be silenced."
Journalists and scholars discuss the challenges they face on the ground in a section aptly titled "Reporters in Action". The first issue features Rappler reporter Pia Ranada, who talks about the challenges of covering populist Philippines president Rodrigo Duterte. Scholar Judith Clarke writes about the state of independent media in Southeast Asia.
Lau Chi-kuen, head of Department of Journalism, said that the journal fits in with the department's mission to provide a platform for the exchange of ideas among professionals and scholars. "The Asia-Pacific Journalism Review aims to become an influential professional journalism publication, and we hope that it will lead the local news industry to further connect with the Asia-Pacific region," he said. For free subscription to the online edition (PDF) and e-newsletter and for other details visit apjrhk.org.
OTHER JOURNALS HOUSED AT THE SCHOOL
Asia Pacific Journalism Review is the School of Communication's fifth faculty-edited journal. The others are:
Communication & Society
Editor-in-Chief: Ven-Hwei Lo, Department of Journalism
Publisher: Centre for Chinese Media and Comparative Communication Research, School of Journalism and Communication, The Chinese University of Hong Kong; and the Centre for Media and Communication Research, School of Communication, Hong Kong Baptist University.
Global Media and Communication
Founder and Managing Editor: Daya Thussu, Department of Journalism
Publisher: SAGE Publications
Global Storytelling: Journal of Digital and Moving Images
Editor: Ying Zhu, Academy of Film
Publisher: Michigan Publishing
Young Consumers
Editor: Kara Chan, Department of Communication Studies
Publisher: Emerald Publishing