Published: 2022-07-02
Cherian George was inducted as a Fellow of the International Communication Association at ICA's annual conference in Paris in May 2022. He is HKBU's first ICA Fellow. The status, held by under 5 percent of the association's membership, is meant to recognise distinguished scholarly contributions to the field of communication.
George is the author of several internationally-acclaimed and best-selling books about media and democracy. His 2016 monograph, Hate Spin: The Manufacture of Religious Offense and its Threat to Democracy (MIT Press) was named one of the best 100 books of the year by Publishers' Weekly. George's original concept of hate spin has been widely cited as a way of making sense of how modern hate propaganda combines traditional hate speech with manufactured offendedness. The editor of the journal Democratization called it a "highly important book" that "has done both the scholarly and policy worlds a huge favour". In the run-up to the United Nations' first International Day for Countering Hate Speech this year, the UN's Special Rapporteur on Freedom of Religion or Belief called George's book "essential reading to help frame our thoughts on how to combat hate speech".
George's latest book, Red Lines: Political Cartoons and the Struggle Against Censorship (MIT Press) was honoured by the Association of American Publishers as one 2021's top three scholarly books in the field of Media and Cultural Studies as well as in the Graphic Nonfiction category. According to one reviewer, Red Lines "belongs on the syllabus of any media studies class as it sets the standard for discussion of this topic". The book, rendered in graphic form in a collaboration with artist Sonny Liew, builds on several years of theorising about modern censorship. His original theory of calibrated coercion, explaining the strategic self-restraint that states often exhibit in their repression of free speech, has surfaced in multiple disciplines and contexts, including studies of media controls in Fiji, the pro-democratic movement in Thailand, and regulation of labour in Canada.
"Cherian George is both an excellent researcher and an original and important theorist," wrote Sandra Braman (Texas A&M University) in her nomination letter to ICA. "It is hard to think of a more important research agenda for someone in the field of communication in today's environment than Cherian George's focus on hate speech, challenges to free speech, and the role of political controls over and uses of speech in generating polarization so extreme it threatens or destroys democracy altogether." Media law professor Kyu Ho Youm (University of Oregon) called George's research into democratic public discourse "boundary challenging". "A growing number of scholars in history, political science, and cultural studies draw upon Professor George's innovative research on media freedom."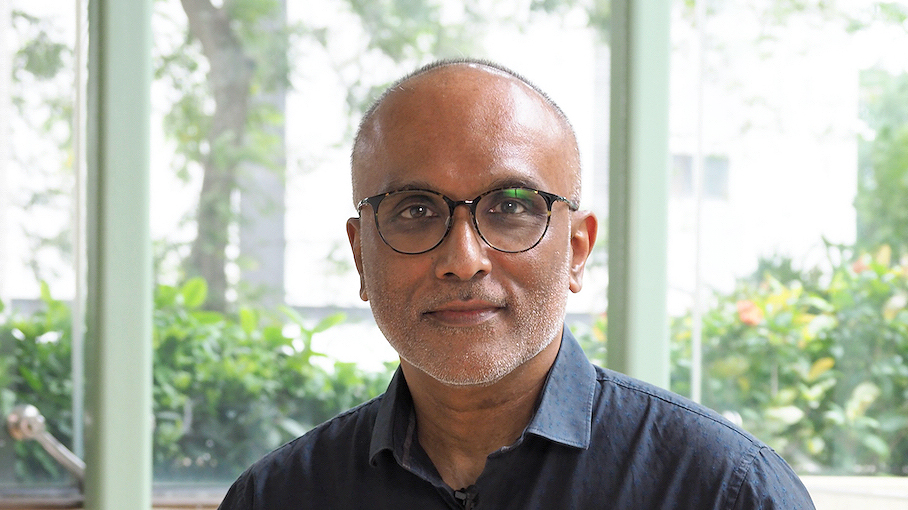 Professor Cherian George, Associate Dean (Research & Development), School of Communication
George is a Professor in the Department of Journalism and Associate Dean (Research and Development) of the School of Communication. One new project follows up on his hate propaganda research by looking more closely at how media can combat intolerance in highly polarised societies, starting with India and Sri Lanka. "The problems are clear, but solutions have eluded us," he notes. "I want to study the practical wisdom accumulated by progressive media organisations, professional groups, human rights defenders, and other actors who are attempting to heal divided societies. I hope to crystallise and share best practices emerging from the trenches."
He also continues to study censorship, and is developing a theory of what he calls "performative censorship — not censorship of performance, but censorship as performance". While some censors try to work stealthily, others are mostly interested in censorship as a symbolic statement. "We see political actors attacking cultural producers and products in performances that are designed for visibility and virality — from 'cancel culture' on the left to public lynch mobs on the right. It's a symptom of the political polarisation that currently grips many established and would-be democracies."
A native of Singapore, George is best known at home as the author of best-selling books on the republic's politics, including Air-Conditioned Nation Revisted (Ethos Books, 2020). "Cherian George is a public intellectual," wrote Mohan Dutta, another nominator (Massey University). "Cherian stands out not only for his rare intellect, but even more so for his ability to nurture, support, and hold up the work of entire generations of academics, activists and civil society organizers. For his courageous voice, he has been targeted by the authoritarian regime in Singapore, having been subjected to the various techniques of calibrated coercion that he so powerfully depicts in his scholarship. That he has continued to persist in the face of this repression speaks to the integrity of his voice."
In 2019, he co-founded AcademiaSG, an independent collective of Singaporean scholars that promotes publicly-engaged scholarship. In 2021, he led an AcademiaSG study on the state of academic freedom in the country, including the first survey of Singapore-based academics on the subject. He and his AcademiaSG collaborators have also launched an international, interdisciplinary Singapore Studies seminar series featuring doctoral and post-doctoral researchers. It is a way to recognise junior scholars who conduct critical scholarship addressing local needs, he says. Similarly, at HKBU's School of Communication, he encourages junior scholars to engage with the societies they care about, even as they try to make connections with global scholarship.
"In most societies, universities struggle to internationalise. But in Singapore and increasingly Hong Kong, the research challenge is the opposite," he says. "As global cities under autocratic governments, we face strong institutional and political incentives to advance our careers by going up the ladder of abstraction, including producing arcane knowledge valued by American journal editors, while making little critical contribution to local needs. Senior academics who care about society have a special responsibility to correct this trend."