Published: 2023-03-07
A new journal on "artificial humans" was announced at Hong Kong Baptist University on 6 March 2023. Computers in Human Behaviour: Artificial Humans (CHB:AH) will serve as a multi-disciplinary forum for cutting-edge research on various dimensions of how humans interact with artificial agents and computers.
The new journal is a sister publication of the prestigious Computers in Human Behaviour (CHB), whose senior editor is Bu Zhong, head of the School of Communication's Interactive Media Department. Matthieu Guitton of Laval University, Canada, is editor-in-chief of both Elsevier publications.
The journal's official unveiling was a highlight of the Summit of Artificial Humans, a half-day forum organised by the School of Communication. In his welcome address, HKBU President and Vice Chancellor Alexander Ping-kong Wai called the Hong Kong launch of the journal "testimony to the excellence of our researchers and the leading position they hold in the research community". Guitton added in his launch remarks, "Hong Kong is the city with the highest density of high-level research in the field of AI in the world."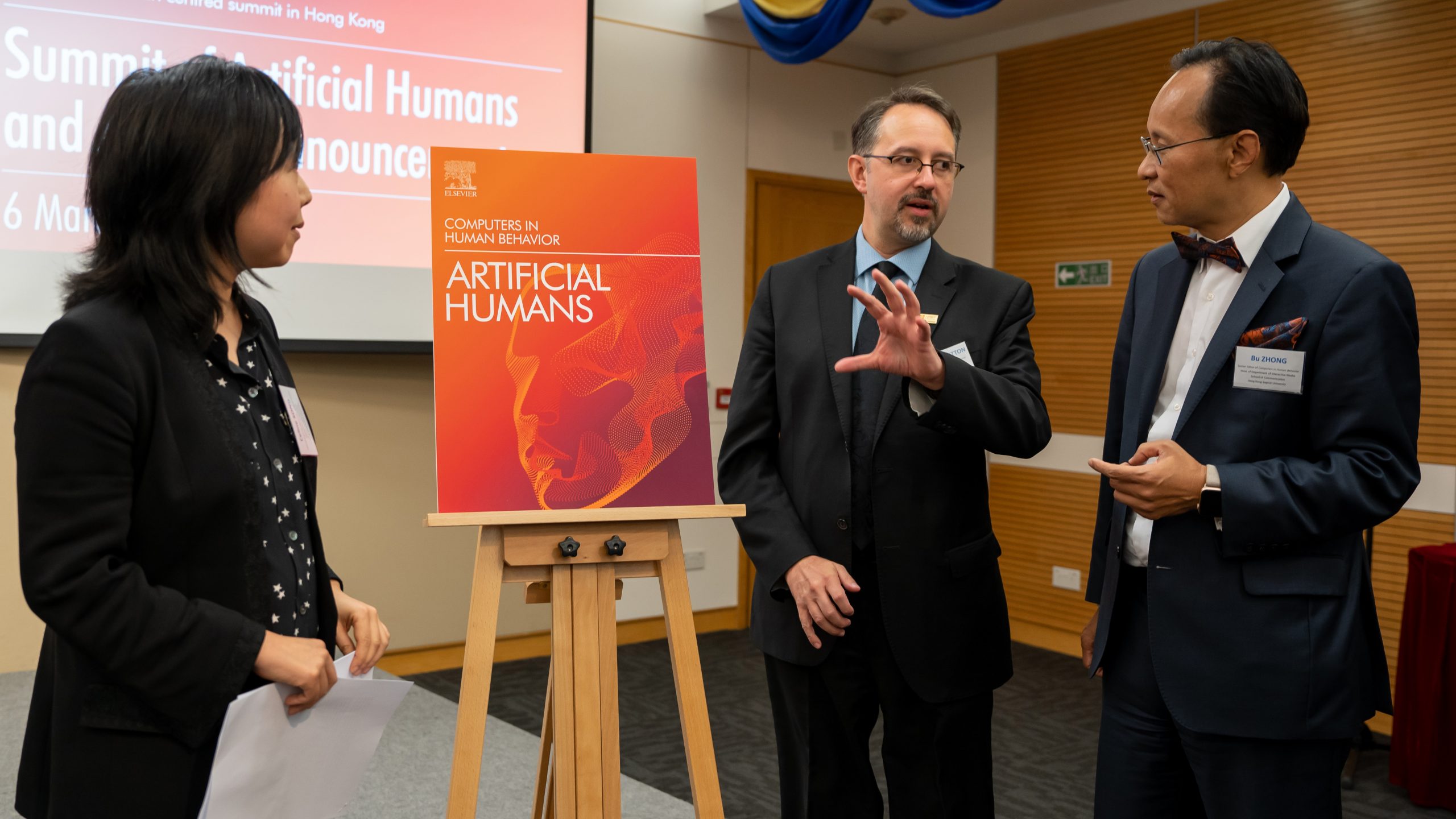 Celine Song, Matthieu Guitton and Bu Zhong with a mock-up of the cover of the new journal.
CHB:AH will welcome original articles by researchers in the humanities and social sciences as well as those in brain sciences and other natural sciences. The new journal's founding editorial team includes Celine Song, a professor in the School's Department of Journalism, and William Cheung, professor at HKBU's Department of Computer Science.
Zhong said the inclusion of social science perspectives promised CHB:AH a bright future. "We intend to build this new journal to the high-ranking level of Computer in Human Behaviour," he said. CHB, which is almost four decades old, currently ranks 4th in the world in applied psychology research and 6th in human-computer interaction, Zhong noted.
Guitton noted that most people think of artificial intelligence (AI) narrowly. In fact, there is a broad spectrum of ways in which humans can coexist and interact with these creations. "Artificial humans" do not just include disembodied artificial sentients such as bots and online AIs. There are also embodied technologies (such as devices that can augment the capabilities of people with disabilities), social robots, and enhanced avatars that can act for people. "Are they tools or partners?" Guitton asked. Complex ethical and legal questions are emerging, such as whether artificial agents have responsibilities and rights.
Steve Guo, the School's Interim Dean, said he hoped the journal would be a key that opens the door to critical reflection and nuanced understanding about the relationship between machine and mind.
The Summit of Artificial Humans featured world-renowned Hongkong-based scholars in AI and related areas.
The keynote speakers included Martin Wong, Dean of Engineering at the Chinese University of Hong Kong. "In 10 years you can move an artificial limb just by thinking about it," he predicted.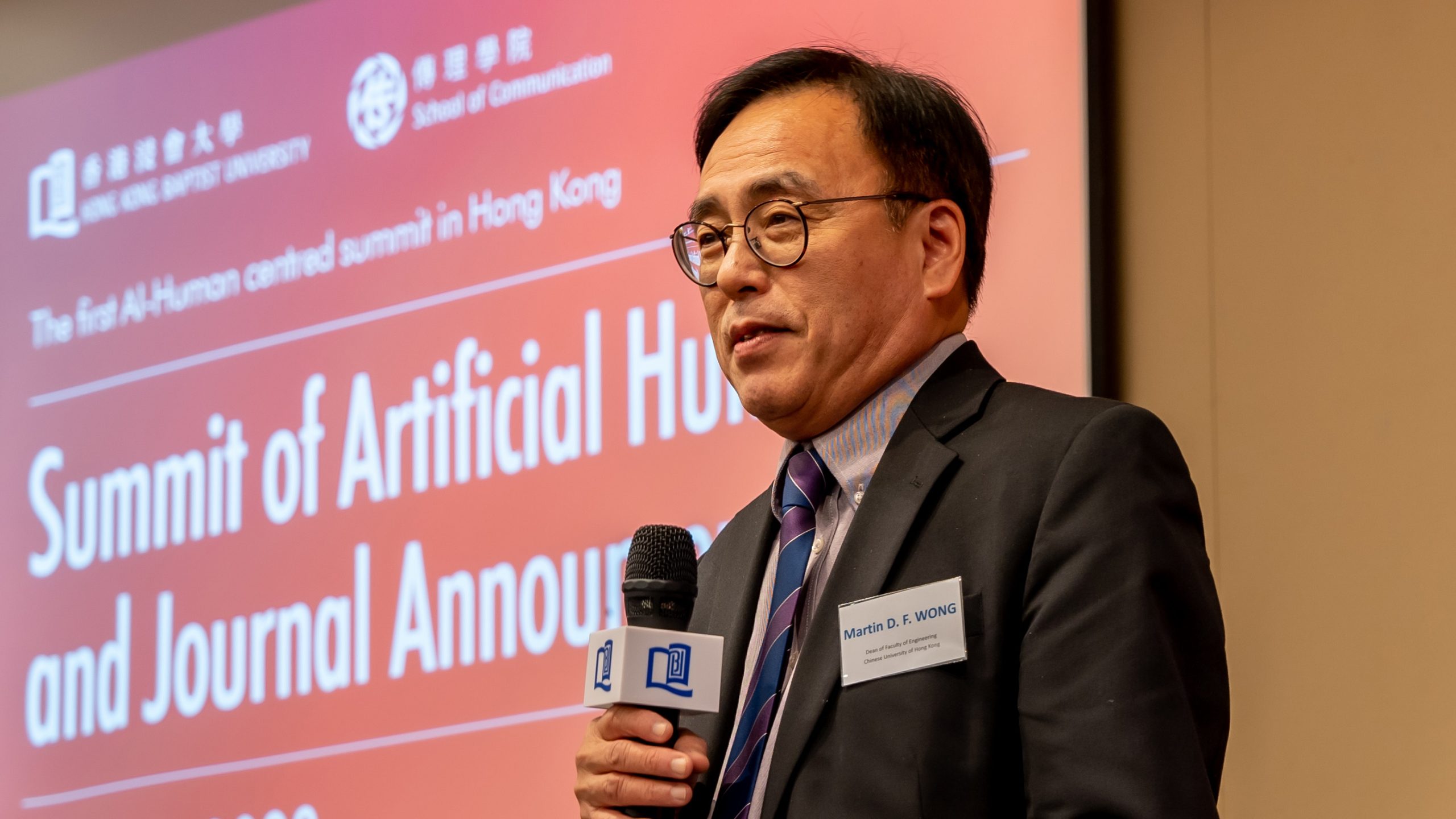 Martin Wong was a keynote speaker at the Summit.
Painting a picture of the future, Wong invited the audience to think back to how the technology of making phonecalls had evolved. Once, callers were tied to wired landlines. Cordless phones then allowed users to walk around their homes and office while using their landlines. Today, people are accustomed to video conferencing on their mobile devices. Within five or ten years, however, conversing with distant people would be like sitting side by side with them, he predicted. "Almost like in real life," he said. "If technology reaches that stage, it will be very cool."
Highlighting some of the contributions that social science can make, Zhong said that AI literacy would become more and more important. People need to know how to evaluate its strengths and limitations, and understand how AI can be used to address complex problems.
For a list of other journals edited by HKBU's media and communication studies faculty visit this page.