Published: 2021-05-26
HKBU poised to achieve 'world-class status' in media and communication research – RAE2020
Hong Kong's comprehensive Research Assessment Exercise (RAE) has affirmed the HKBU School of Communication's quantum leap in research excellence over the last six years. Among all institutions doing research in media and communication, the School's research outputs received the highest percentage of top ratings from the international panel of assessors.
The School also shone in terms of overall research performance — which includes scores for impact and environment in addition to output quality. It had a higher proportion of "internationally excellent" or "world leading" work than other institutions.
"This department's overall research profile was outstanding," said the RAE report, which was released on 24 May. "The research environment was assessed as conducive to world leading research and almost three-quarters of outputs were judged internationally excellent or world leading."
Huang Yu, who has been Dean of the School of Communication since 2013, said, "This is a vote of confidence in the work that staff have put in across the School and at all levels. I am very happy for all our colleagues. It will inspire us to press on in striving for excellence."
The RAE applies international benchmarks to assess the performance of the universities funded by the HK University Grants Committee. The rigorous audit, conducted every six years, is intended to encourage world-class research and drive excellence.
Cherian George, Associate Dean for Research, said that the School was fortunate to be surrounded by pacesetting institutions such as Chinese University (CUHK) and City University (CityU). "In the QS rankings for communication and media studies, London is the only city with more universities than Hong Kong in the top 100," George noted. "Whether we're competing for students and faculty hires, or collaborating on projects, our peers across Hong Kong always keep us on our toes."
In 2014, the School lagged behind CUHK and CityU. In the latest exercise, the School was found to have closed the gap. "Strategic investment in staff time and resources across junior and senior levels has generated substantial results. Since 2014 the department has made excellent appointments at senior and early career levels," the RAE report said. "Support systems for research are good and well-strategized. A strong doctoral programme provides excellent support for candidates."
The School has more than 30 research faculty, affiliated with the Department of Journalism, the Department of Communication Studies, and the Academy of Film. The research outputs of 23 staff were captured in the RAE process, compared with 15 and 12 for CUHK and CityU respectively.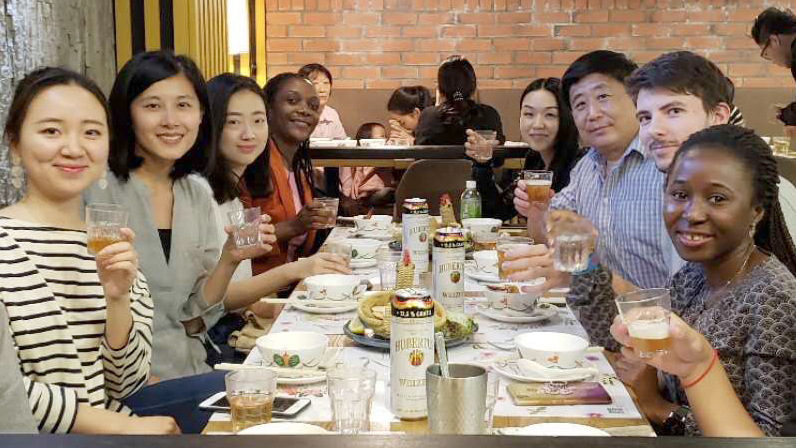 Postgraduate research students with Professor Steve Guo, who received the President's Award for Outstanding Performance in Research Supervision in 2020. The RAE recognised the School's excellent support for doctoral students.
The size of the research faculty, 50–90% larger than other institutions, makes the RAE result all the more remarkable, George said. "More than 80% of research outputs of this large pool was assessed as 3-star or 4-star, which would not have been possible if our efforts focused only on a few 'star' researchers," he noted. "Instead, we have taken a broad-based approach, including nurturing invaluable colleagues who pour heart and soul into our all-important teaching programmes."
George said the RAE results vindicated the School management's philosophy of pursuing excellence through sensible, people-centred strategies. 
"Competition in global higher education does not always bring out the best in institutions, and we've been determined not to kill the spirit of academic inquiry by gaming rankings and ratings," he said. "We want to nurture our faculty and celebrate their diverse interests, including their deep commitment to teaching and service. So it is extremely encouraging that the RAE praised our 'due recognition of differences in tradition and approach in different kinds of scholarship'."
Colin Sparks coordinated the School's RAE preparations from 2014–2020. "This is an excellent result," said Sparks, who is now an emeritus professor. He acknowledged the contributions of technical, administrative and teaching staff, without which research faculty would not have the time and resources to devote to their projects. "The School is in a strong position to do even better next time around and, as the RAE Assessment Panel said, 'progress further towards world-class status'."
More from the RAE report
"The department's research contributes to social sciences, arts and humanities and quantitative computational work. There is exemplary work in journalism studies, film history, digital media and AI. Research on political and in health communications have generated well-evidenced impact with impressive work in health promotion and the analysis of religious offence. 
"When applied, multi-modal research is often highly valuable. Work that develops conceptual foundations of methods and modes of enquiry is notable and deserves sustained support. The panel commends those projects showing strong synergies between research approaches and looks forward to further enhancement of critical and qualitative methods. With further support of staff, students and systems this department can build on its strong gains to progress further towards world-class status."
NOTES
Under the RAE, research performance is assessed by specialist panels and rated as 4-star (world leading), 3-star (internationally excellent), 2-star (international standing), 1-star (limited standing), or unclassified. 
Outputs (accounting for 70% of the overall score) are submitted by eligible research faculty of the unit (HKBU: 23 staff; CUHK: 15; CityU: 12; HKU: 5). Assessors also examine whether the research environment (15%) is conducive to producing work of world-leading quality. For the first time, departments had to submit impact case studies (15%) showing how research benefits the wider society beyond academia. Due to its size BU's School of Communication was asked to submit two Research Impact case studies. Other institutions submitted one impact case study each.