Published: 2021-03-31
In an age of intensifying rivalry between the United States and China, an interdisciplinary conference at Hong Kong Baptist University will look critically at "Cold War" narratives, both historically and as a construct for understanding contemporary developments.
This year marks the 30th anniversary of the original Cold War, the half-century of US-Soviet superpower rivalry that left few societies untouched. The HKBU conference, to be held on 11–12 November 2021 (in Hong Kong, if possible), will interrogate dominant frames of Cold War thinking, examining how these frames are constructed, circulated, mobilised and contested through media and culture. The organisers are currently inviting proposals, which are due by 1 July.
The event is organised by HKBU's new Global Communication and Power cluster (GCAP), comprising scholars in media, communication and film studies at the School of Communication, in partnership with political scientists at the Department of Government and International Studies (GIS).
"Time is more than ripe for a reappraisal of the Cold War and its historical legacy," said Ying Zhu of the Academy of Film. "Particularly amidst the jostling for global influence of competing ideologies between established and emerging superpowers, which confines smaller nations and alliances in the global pecking order. We are clearly nowhere near the end of history."
The conference is the brainchild of Daya Thussu of the Department of Journalism. "As we enter the third decade of the twenty-first century, Cold War 2.0 has become arguably one of the most contested and controversial geopolitical discourses," he says. The concept demands critical analysis, he adds: "Does its adoption as the dominant narrative by the global media indicate insight or a failure of imagination in a multipolar world?"
Thussu and Zhu are the editors of, respectively, Global Media and Communication and Global Storytelling: Journal of Digital and Moving Images and aim to invite conference presenters to contribute to special themed sections in the two journals.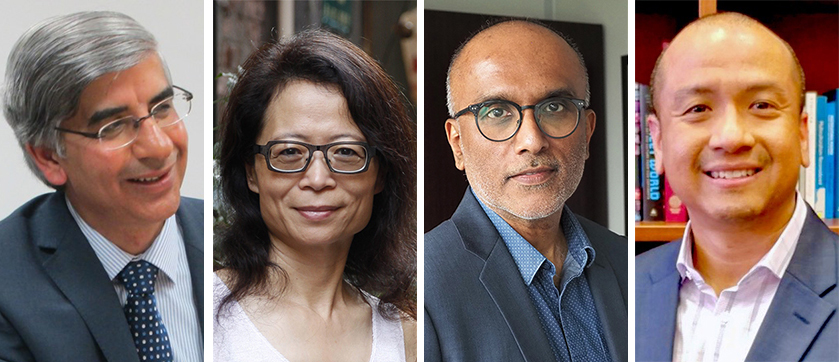 Professors Daya Thussu, Ying Zhu, Cherian George and Kenneth Paul Tan of the School of Communication's Global Communication and Power research cluster.
The conference theme aligns with what has been called the "narrative turn" in political science, referring to how facts are constructed and woven together to make sense of political realities, notes Alistair Cole, head of GIS. "This is a timely opportunity to revisit past Cold War narratives, and to map contemporary and competing efforts to use discourse to address the challenges of cooperation and conflict in the emerging world order," he says.
Jean-Pierre Cabestan, also of GIS, points out that many international relations experts are focused on the apparent emergence of a new Cold War between the West and China, making it a timely occasion to revisit the original Cold War. "This will help us to better comprehend the intriguing similarities — geostrategic rivalry, technological and ideological competition — and the profound differences — economic globalisation and interdependence — between the past, the present… and probably the future," he says.
Kenneth Paul Tan, who joined GCAP this year under HKBU's Talent 100 scheme and heads the conference programme committee, observes that in some respects the Cold War never really ended. "Today, so much of how we understand who we are and the world we live in, as well as the ways that we represent and communicate these things, is made possible but also constrained by Cold War categories, modes, and styles of thinking," he notes.
"We are therefore very excited in this conference to critique from various disciplinary vantage points the limitations of Cold War thinking, while acknowledging its continued ability to generate new meaning, self-reflexivity, and creative expression."
The conference reflects HKBU's strong belief in cross-faculty collaboration, says Cherian George, the School of Communication's associate dean for research and a GCAP cluster member. "We expect the conference to generate conversations on topics of transdisciplinary interest, such as state propaganda and hypernationalism," he says. "The diverse make-up of our organising committee reflects our openness to investigate our chosen theme from multiple perspectives. We look forward to receiving proposals that surprise us with fresh ways to make sense of Cold War narratives."