Published: 2023-03-29
Emerging technologies like machine learning, the Internet of Things (IoT), and generative AI are already permeating and disrupting various aspects of life. People rely on these technologies to perform daily tasks activities such as ordering food online, streaming music, and unlocking smartphones with facial recognition.
With tools such as chatbots, ChatGPT, DeepAI, DALL-E, humans and machines look set to work together in unprecedented ways. But how exactly will humans and AI work synchronously? What are the policy and ethical dilemmas arising from the use of artificial agents? A group of world-renowned AI scholars tackled these questions in the Summit of Artificial Humans organised by HKBU's School of Communication in March 2023.
Tools, partners, or threats
One major issue is how people understand and perceive AI technologies. Many people think of AI simply as computer programs that operate within the scope of technological devices. Matthieu Guitton, editor-in-chief of the journal Computers in Human Behavior, pointed out that AI relates to humans in multiple ways. "Artificial humans" can be disembodied agents such as chatbots and algorithms, but can also function as technologically enhanced humans, such as social robots, cyborgs, and avatars that can mimic human behavior.
One controversial question is whether they are merely tools or can be regarded as citizens with rights, notes Guitton, who is Professor in the Faculty of Medicine and Graduate School of International Studies at Laval University, Canada, and Bualuang ASEAN Professor Chair of Thammasat University, Thailand. He reckons that the study of artificial humans can no longer be limited to computer and technical sciences. "We need transdisciplinary research like cyberpsychology, communication sciences, and other social sciences to fully understand the complexities of artificial humans", he said.
Guitton announced a new journal, Computers in Human Behavior – Artificial Humans, which will serve as an interdisciplinary forum for such cutting-edge research.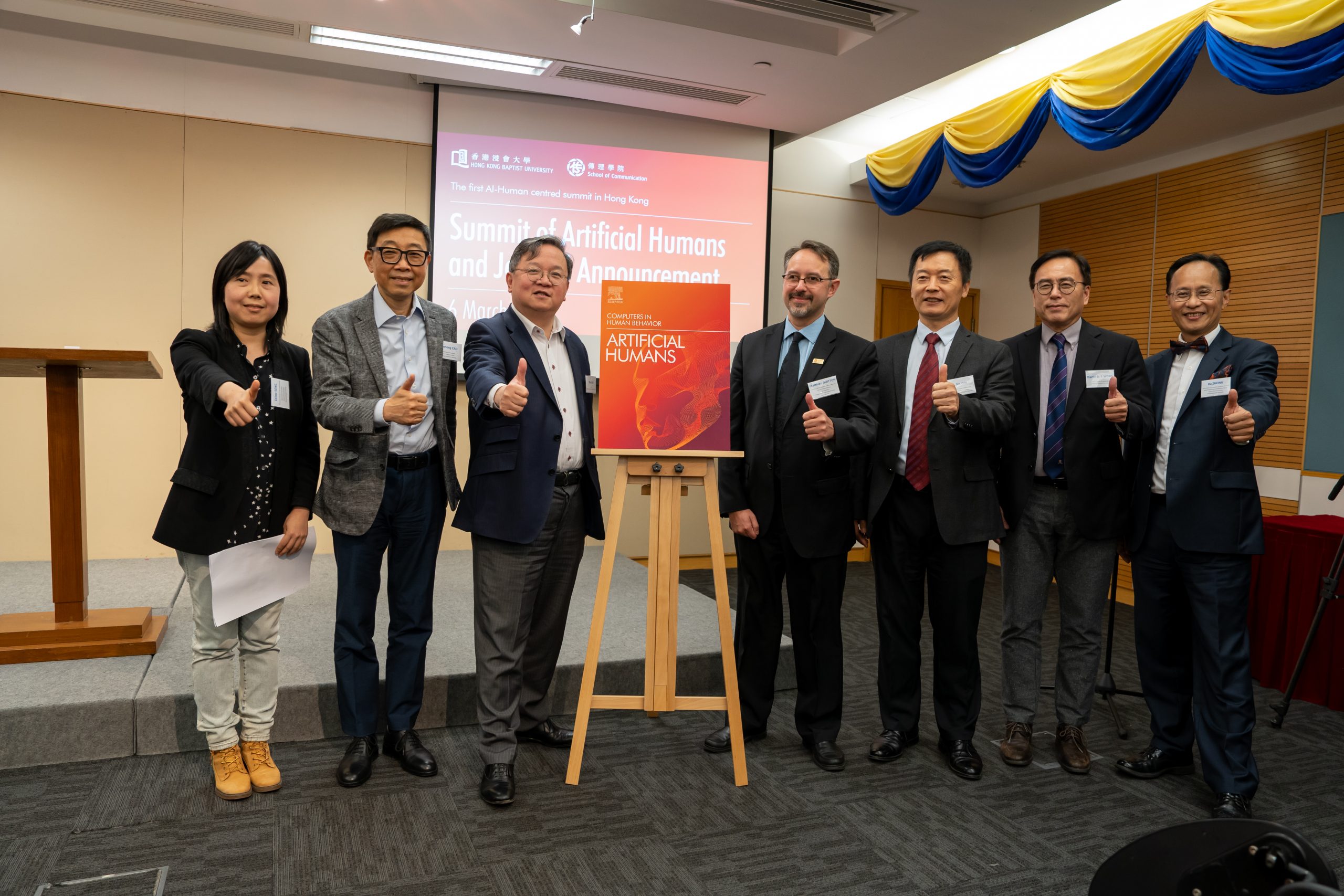 From left to right: Professor Celine SONG (HKBU); Professor Jiannong CAO (HKPolyU); Professor Yike GUO (HKUST); Professor Matthieu GUITTON (Laval University, Canada); Professor Joe QIN (LingnanU, CityU), Professor Martin WONG, (CUHK), and Professor Bu ZHONG (HKBU) at the launching of CHB: Artificial Humans
Yike Guo, Chair Professor and Provost of the Hong Kong University of Science and Technology, voiced optimism about the ability of AI not only to learn from human intelligence, but also to amplify human intelligence. "This is a revolution of knowledge creation as predicted by Alan Turing in 1950," Guo said. "With ChatGPT, one cannot distinguish between human and machine responses which shows how human and machine intelligence have blurred". Addressing the copyright and plagiarism concerns about the use of ChatGPT, he argued that the benefits of this generative AI in academic environments far outweigh its deficits as it can amplify students' critical thinking and facilitate a more interactive teaching and learning experience.
Are humans in the loop?
When technology becomes fully autonomous, will humans still be relevant? As much as the world is welcoming of AI and its abundant life-altering potentials, the apprehension that it may, someday, override human control, supplant human jobs, or even revolt against humans still hangs heavily in the air. Joe Qin, the President Designate of Lingnan University and Director of the Hong Kong Institute for Data Science, City University of Hong Kong, challenged these misconceptions. "Automation of complex operations still require humans to make critical decisions because they are the final backup when the automation system fails. So, by-passing the human can be costly," he said.
Professor Joe Qin giving his talk at the Summit
Rather than replacing humans, Qin explained, AI and data science serve as virtual instruments that help to reveal uncertainties, shed light on the dark side in the domain of knowledge, and serve as powerful tools to solve human problems and advance scientific discoveries.
Bu Zhong, Professor and Head of Interactive Media Department, Hong Kong Baptist University, agreed: "We understand AI as a means to simplify human activities and improve our well-being." He added that humans live in a liminal space, as the transitional state between the present and the future technological advancements is getting blurred by AI.
Emerging roles of Artificial Humans
Zhong envisaged that artificial humans will have an impact on human attention. Human attention spans are getting shorter, but the development of scientific breakthroughs requires focused attention. "Human-AI interactions and designs can improve attention and productivity. Likewise, AI-powered attention training can reduce stress and improve cognitive abilities," he said. Zhong noted that AI can be used by organisations to automate processes, optimise operations, and improve efficiency.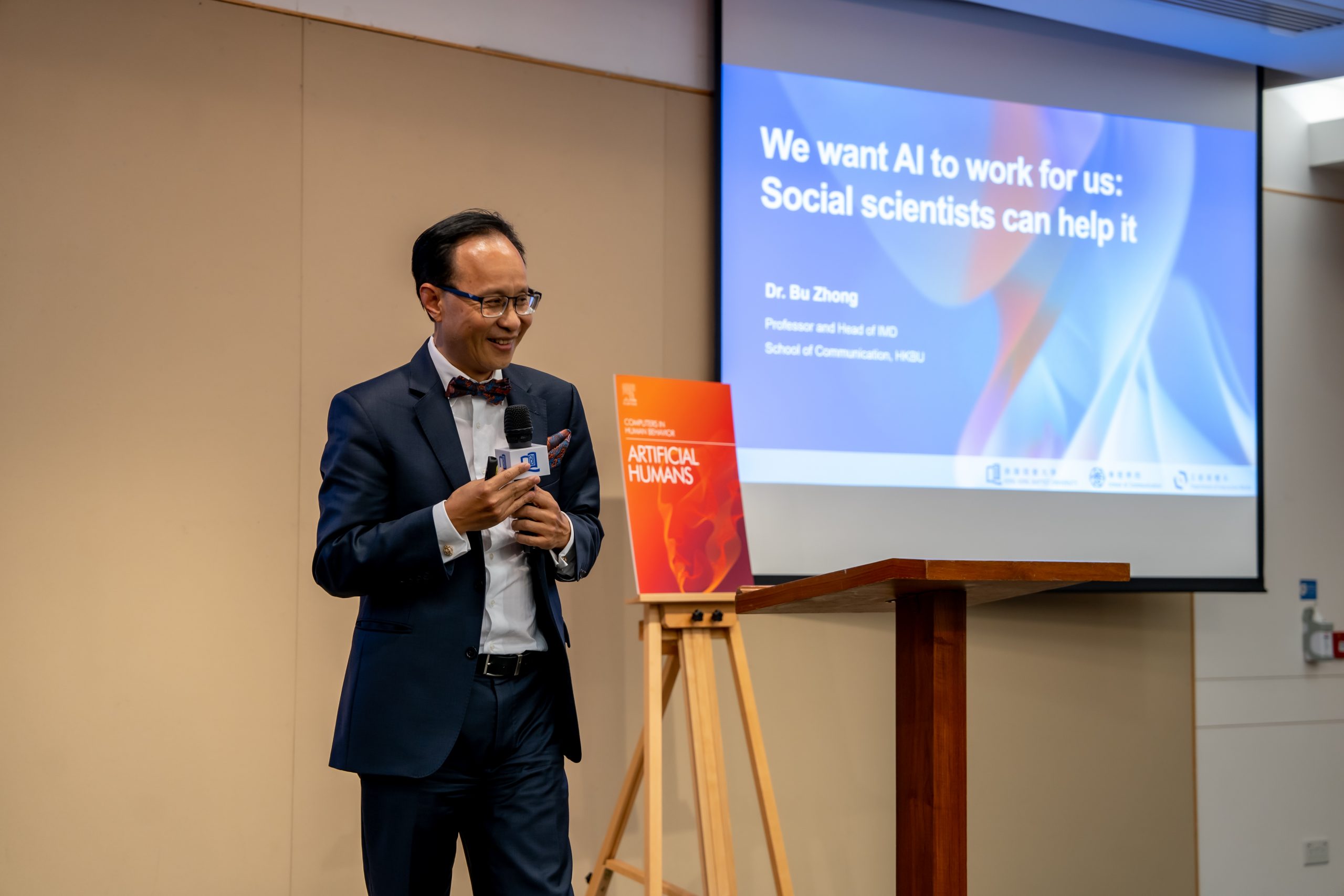 Professor Bu Zhong giving his talk at the Summit
Martin Wong, Dean of Faculty of Engineering, Chinese University of Hong Kong, suggested that generative AI like ChatGPT, metaverse, and virtual and augmented reality will create a parallel universe where humans can connect and interact in a fashion that simulates real life experience. Similarly, Dong Xu, Professor in the Department of Computer Science, University of Hong Kong, predicted that AI technologies will further improve biometrics, human face recognition, and image generation.
In the near future, will robots, cyborgs and other sentients beings be capable of emotional intelligence and possess human personalities? Jiannong Cao, Professor in the Department of Computing and the Dean of Graduate School Hong Kong Polytechnic University, answered in the affirmative. "In the next few years, there will be a big progress in humanising AI. By incorporating human values and ethics into their operational systems, artificial humans will be able to have empathy, figure out right and wrong, and embody human personalities," he predicted. To make this a reality, Cao has recently set up a joint lab with a robotics company to develop humanoid robots that are emotionally intelligent and socially responsible.
The Summit received media coverage in China Daily [Academics pinning hopes on HK as an AI research center | Hong Kong | China Daily (chinadailyasia.com)], The Standard, [Journal helps address fears over ChatGPT | The Standard], and 經濟通 etnet [Take the lead in allowing ChatGPT to copy homework Vice President of HKUST: Students should learn to ask the "best questions"-Current affairs-World affairs-Lifestyle Channel-ET Net].